Anna Kilroy
Millie Rockall
Sophie Houghton
Martha Regal
Seniors
Devon Ashpool
Laura Bartlett
Laura Rate
Mel Bevis
Lucy Kilroy
Pauline Cushing
The winner for the Junior raising the most Sponsorship was Anna Kilroy, (photographed with her sister) this is the second time Anna's won the Junior prize, thanks in part to a generous Dad!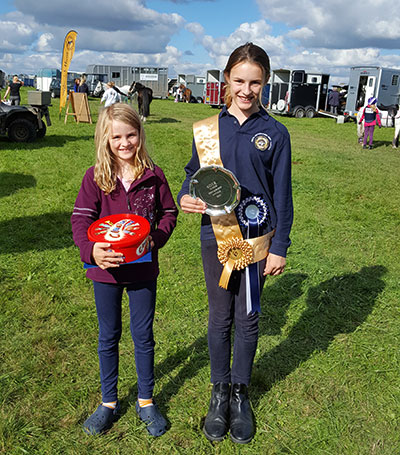 The Senior raising the most sponsorship was Devon Ashpool, whose silver salver, beautiful sponsorshop sash and a bottle of champagne were presented to her by the ride's Chairman Ian Parkinson.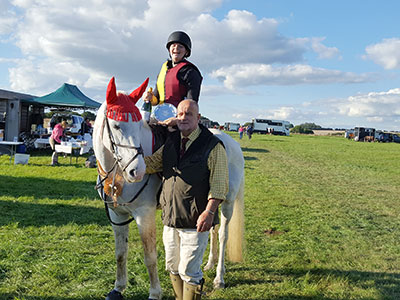 Well it's all over for another year, we hope that you have happy memories of the ride and that you join us again next year.
In the meantime KEEEEP RIDIIIING! (strickly!)
---
The end of a long day
Thank you to everyone who took part, and to everyone who helped!
Sponsorship winners will be announced here shortly.
Official photos from the 2016 ride were by Ultimate Images, and there are some photos from other jumps around the course for sale here. All proceeds from these additional photos go directly to the ride.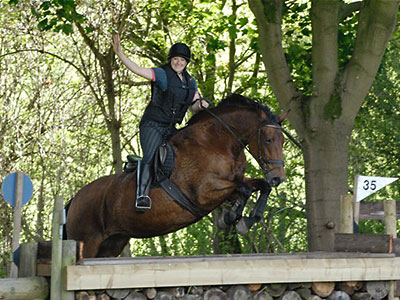 See you later...
Today's the day, and we're all ready and hope to see you later.
Things to bring with you:
Hat
Body protector
Medical armband
Sponsorship form and money
Horse!
2016 entries
Online and postal entries for the 2016 ride are now closed, but there are some afternoon times left, so entries will be available on the day of the ride for £20 entry fee (and minimum £15 sponsorship), to be paid in cash.
If you are entering on the day, please report to Secretary's tent between 11.30am and 12.30pm with a completed entry form.
Start times have been sent for all advance entries. If you entered online but have not received your start time, please check your Junk/Spam folders and if you still can't find our email, please call the Secretary on 01494 678269.
---
//-->